For every business, lighting needs vary based on location. However, convenience store lighting is a pretty standard layout since most offer the same areas in need of illumination. When it comes to finding the right convenience store lighting, let's look at the main areas to determine the importance of lighting.
Signage
The sign is one of the most important lights since it directs customers to your business and draws attention to your location. For this type of lighting, you want an option that is bright and powerful. A LED light is the best choice for this type of lighting for several reasons. They offer superior brightness with cooler operating temperatures making them a cost efficient and energy saving solution. LED's are also longer lasting and require no warm up time.
Outdoor Canopy
This lighting is important because it can be one of the main reasons your customers choose your location over a competitor. No one wants to pump gas at night under a poorly lit canopy. It conjures up safety concerns and makes it seem like the business doesn't care about its customer's well-being. For this area of lighting, you can opt for high bays to deliver a wide scope of bright light. You will most likely want to invest in an instant start ballast because it will help keep the wear and tear lower since these lights will be turned off and on pretty routinely.
Walkways and Parking Area
For this area, the element of light is important in the same way as the canopy. You want lighting options that will make your customers feel safe. Proper lighting of walkways and parking areas leads to fewer incidents of crime and personal accidents such as falls. For parking lot areas, there are the obvious options of adding light poles with high-powered LED's designed to withstand the elements without damage. Walkways can be illuminated in a few ways. Consider the use of wall mounts with accompanying accent or directional lights. Make sure you choose options that are well-gasketed and listed for wet locations to avoid any damage caused by the weather.
Back Door
This area of lighting is essential for the security of your employees and overall business. The back door is often where employees receive deliveries, take out trash, and sometimes exit at the end of the night. A reliable type of lighting for this area is vapor tight fixtures wall mounted directly above the door. These lights can even have a metal cage for added protection because when it comes to outdoor lighting, the sturdier the better.
Interior Lighting
The lighting in this area should be bright, but not overly harsh. It has been proven that stores with better lighting make more sales because customers feel happy about spending. This is one of the most versatile areas of your lighting. You can choose a surface mount, suspended, or pendant mount, depending on ceiling space. Choose from LED or fluorescent, depending on your preference.
You May Also Be Interested in These Articles...
---
Consider Watching These Videos as Well...
---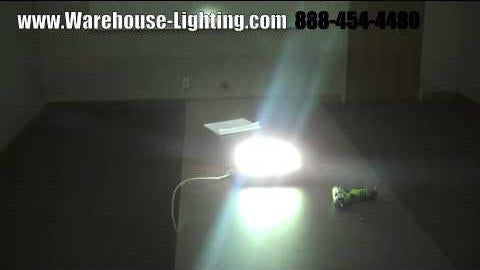 Square LED Canopy Light Fixture
Lighting is one of the most important elements of a location. Without proper illumination, an area can seem unsafe and downright uninviting. With our LED canopy lighting fixture, eliminate this ...
Watch Video
LED Round Canopy Lights
Watch our LED Round Canopy Lights Product Review video. Our videos will educate you so that you can confidently purchase and install LED light fixtures, whether they are for a new installation or t...
Watch Video