Office lighting is about more than seeing the papers on your desk—it can be the difference between a sluggish staff and an invigorating work environment. For this reason, commercial lighting fixtures for your office must meet certain requirements to be a success.
From effective illumination for work tasks to energy efficiency to lower utility costs, there are many factors to consider for office lighting.
In this article, we'll explore the three kinds of office lighting, a few different types of fixtures for your office setting and why Warehouse-Lighting.com is the best place to shop for the right office lighting products for your property.
Lighting Fixtures for Your Office Environment
While some offices have large open spaces that use skylights and large windows to take advantage of natural light, offices typically require artificial lighting solutions to illuminate their workspace.
The main types of indoor lighting used in offices tend to come from the big three: incandescent, fluorescent/compact fluorescent (CFL), and LED.
Incandescent Office Lighting
Incandescent bulbs are the least desirable lighting option in terms of office lights. Incandescent lights are found in older office fixtures. The least energy-efficient of the three, incandescent bulbs burn at a hotter temperature, consume more energy, and have a shorter average life rating.
The only big benefit of this type of lighting is that it comes to full lumen output faster than fluorescent lights. It is also seen as environmentally friendly despite the higher energy consumption because the filament is made from tungsten, a non-hazardous metal, while the comparative fluorescent bulbs tend to use mercury.
Incandescent bulbs are often decorative, making them more prevalent in accent lighting or task lighting fixtures than in ambient lighting.
Fluorescent Office Lights
When compared to its incandescent counterpart, fluorescent lighting may be considered a better solution. It lasts almost 20 times longer than incandescent in most cases. It also burns at a cooler temperature while offering a higher lumen output. Fluorescent/CFL bulbs are not without fault, though. They often use mercury which can be tricky to dispose of safely and they are more prone to flickering than other options. Fluorescent ceiling fixtures offer a wide scope of illumination. They are commonly utilized in office settings in the form of T8 and T5 tubes which are easy to install and replace.
LED Office Lighting
LED lighting is seen as the best solution for many reasons:
Longest-Lasting: LED office lights have an impressive lifespan – anywhere from 25,000 to 100,000 hours. Unlike fluorescent lamps, LED lights retain their excellent output quality throughout their life. Part of the reason for their longer life is they run at cooler temps, so they're less likely to shatter from getting overheated.
Low Wattage: LED bulbs have the lowest wattages with exceptionally high lumen outputs.
Cost-Effective: While the initial cost may be higher than the other two options, LEDs last longer and use much less energy, so you get a good return on your investment.
Versatile: LEDs come in various lighting models perfect for office lighting such as tubes, bulbs, rope lighting, and more.
When considering the different types of office lighting, you should evaluate which factors are most important to your location such as cost, energy consumption, or output. Once you have decided the best one to meet your needs, then you can start looking into which model is the best fit for your location.
Types of Office Lighting Fixtures
Flat Panel LED Light Fixtures
The right overhead lighting solution can make your space brighter and more productive for office staff. LED flat panel ceiling lights are a high-performing solution, featuring traditional-style lighting fixtures nestled behind ceiling panels to provide light for the entire office space while keeping office light fixtures out of sight.
As well as determining the right shape and size of your flat panel LED office lighting fixtures, you'll need to determine which configuration is best for your office space:
Edge-Lit Panels: Featuring a thinner profile, these flat panel LED office fixtures cost a bit more and use more power than other types of LED office lighting.
Back-Lit Panels: The LEDs are positioned behind the frame instead of the edge, enabling them to shine right through the diffuser. Back-lit panels are less expensive than edge-lit panels, making them the more popular choice.
Suspended Office Lights
There are office spaces that require a more nuanced light source. In these instances, you can create beautiful lighting with suspended office lights. Linear suspended LED office lights provide a lovely diffused light that is easy on the eyes while providing ample light output. Easy to install and maintain, there are more than a few different styles to choose from in this type of architectural lighting fixture.
Recessed Lighting Fixtures
LED recessed lighting is installed into openings in the office ceiling at evenly spaced intervals. In this way, recessed lights create patterns of light that shine from the ceiling, with a direct light that's concentrated in a downward direction.
Office Lighting Frequently Asked Questions
Here are some of the questions others have asked about office lighting fixtures.
What are the best office lighting fixtures to use in a drop ceiling?
There are two types of light fixture solutions that work well in drop ceilings:
Troffer Light Fixtures: Troffer light fixtures illuminate indoor spaces and are placed in T-bar ceilings, grid ceilings or suspended ceilings. They can be laid into a ceiling grid that is recessed and sit above the grid but can also be suspended or surface-mounted.
LED Flat Panel Lights: This is the most common type of lighting fixture in warehouse lighting as well as office spaces. Flat panel light fixtures are installed behind ceiling tiles.
Warehouse-Lighting.com Has the Best Solutions for Your Office Lighting Fixtures
Whether you're lighting individual offices or large open spaces, Warehouse-Lighting.com has the right lighting fixtures to get the job done. Our experienced professionals will help you choose the lighting fixtures for your next project.
SHOP COMMERCIAL LIGHTING
You May Also Be Interested in These Articles...
---
Consider Watching These Videos as Well...
---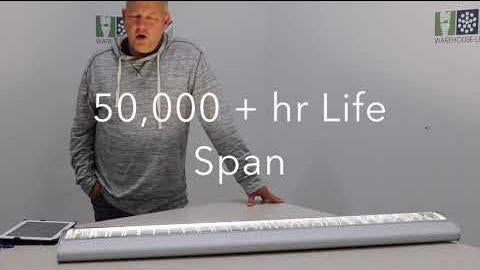 Suspended Linear LED Lights
Watch our Suspended Linear LED Lights Product Review video. Our videos will educate you so that you can confidently purchase and install LED light fixtures, whether they are for a new installation ...
Watch Video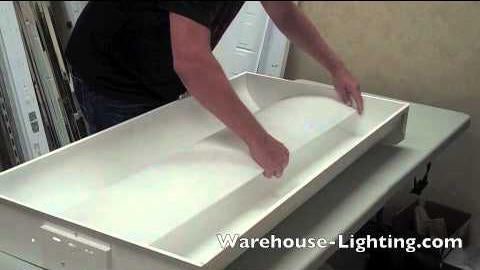 Center Basket Troffer
Finding the right lighting solution can be difficult. With our center basket troffer, get the performance you deserve with a fixture that looks great at the same time.
Watch Video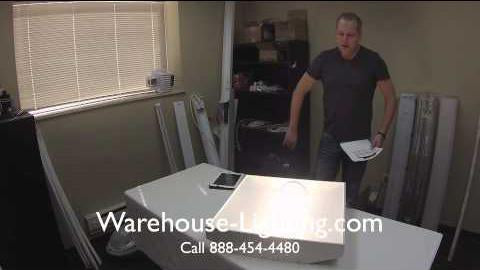 LCD LED Center Basket Troffer
Lighting is an important aspect of any setting. When it comes to finding an LED option perfect for your retail or office location, our LCD LED center basket troffer is a great option.
Watch Video