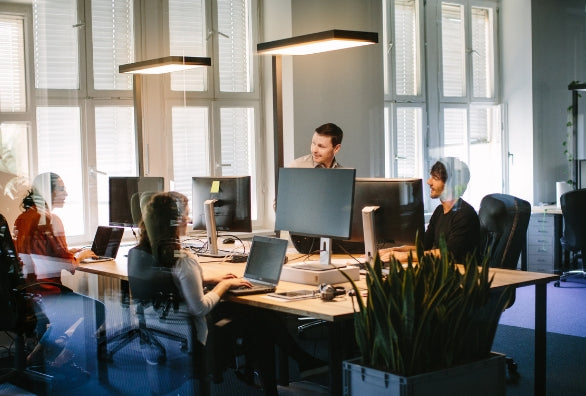 The Importance of Proper Commercial Office Lighting
Proper commercial office lighting is indispensable for creating a conducive and efficient work environment. It goes beyond mere illumination; it directly impacts employee well-being, productivity and the overall ambiance of the workspace. Well-designed commercial office lights reduce eye strain and fatigue, which is particularly crucial for employees who spend hours on end working on computers or reading documents. Moreover, the right LED office lighting can influence mood and motivation, with studies suggesting that adequate illumination can boost morale and reduce workplace stress, as well.
In customer-facing areas or spaces where the brand's image is showcased, commercial office LED lighting plays a pivotal role in presenting the company in the best possible light, both literally and metaphorically. Considering energy costs, modern commercial lighting fixtures also need to be energy-efficient, offering companies the dual benefit of fostering a vibrant work environment while reducing overhead expenses. In essence, the stakes are high, and proper lighting is essential to a successful commercial enterprise.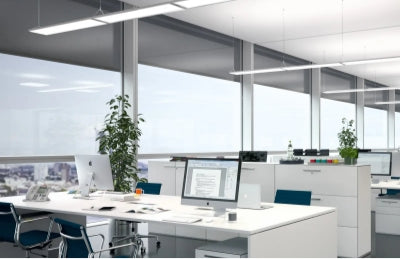 Linear Suspended Commercial LED Office Lighting
Linear commercial LED office lighting uses sleek, elongated light fixtures that provide uniform and energy-efficient illumination across large office spaces. Characterized by their streamlined design, these commercial office lighting fixtures seamlessly blend into modern office aesthetics, often replacing traditional bulky fluorescent tube lights. Whether surface-mounted, recessed or suspended, linear LED fixtures present a harmonious fusion of design and functionality, making them a favored choice for contemporary commercial spaces.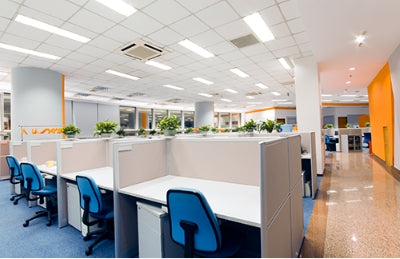 Recessed Commercial Office LED Lights
Recessed commercial office LED lights are lighting fixtures embedded into the ceiling, resulting in a smooth, flush appearance. Their recessed nature allows for targeted and ambient illumination, casting a downward-focused light that can minimize glare on computer screens or workstations. With their discreet presence and powerful illumination capabilities, recessed LED commercial office lights optimize space aesthetics while ensuring functionality in commercial office environments.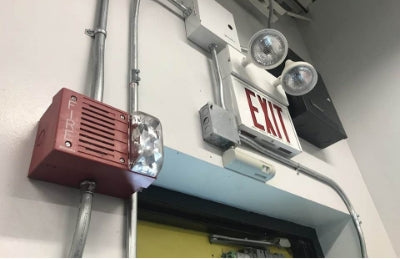 Emergency LED Office Lighting
Emergency LED office lighting is an essential safety feature designed to provide illumination during power outages or unforeseen situations. By utilizing energy-efficient LED technology, these commercial office lights automatically activate during power interruptions, ensuring that building occupants can safely navigate their way out of the premises. Besides pathways, they illuminate emergency exits, stairwells and other crucial areas, aiding in prompt evacuation or allowing staff to address the situation at hand.
The Advantages of Commercial LED Office Lighting
Commercial LED office lighting stands out as a beacon of advancement. First and foremost, LEDs are renowned for their energy efficiency. They consume significantly less electricity than traditional incandescent or fluorescent bulbs, translating to notable cost savings on utility bills. Over time, this efficiency not only cushions a company's operational costs but also echoes a commitment to sustainable and eco-friendly practices. The longevity of LED lights further adds to their cost-effectiveness, with many fixtures boasting lifespans of up to 50,000 hours or more, drastically reducing the frequency and costs of replacements.
Additionally, the quality of light produced by LEDs is superior, providing consistent and flicker-free illumination. This kind of stable lighting is crucial in office settings where the right light can minimize eye strain, boost employee morale and increase productivity. From a design perspective, the versatility of LED lighting allows for diverse applications, be it in task lighting, ambient setups or accent features. Their compact nature enables sleek and modern design integrations, elevating the aesthetic appeal of the workspace. Furthermore, with technological advancements, many LED fixtures now offer features like dimming or color temperature adjustments, allowing businesses to tailor the lighting environment to their specific needs.
Benefits at a Glance
Enhanced energy efficiency
Significant cost savings
Extended lifespan
Superior light quality
Versatile design applications
Reduced eye strain and increased comfort
Advanced features like dimmability and color adjustments.
Commercial Office Lighting Solutions
Dive into the curated collection of commercial office lighting fixtures at Warehouse-Lighting.com, where functionality meets aesthetic brilliance. We understand the unique lighting needs of modern office spaces, and our selection mirrors this expertise. From sleek linear LEDs and discreet recessed lights to innovative task lights and essential emergency fixtures, our range covers every facet of office illumination.
Commercial Office LED Lights
Commercial office lighting presents a unique set of challenges. Unlike residential spaces, commercial offices are typically occupied for long hours and often require higher lighting levels. As a result, energy efficiency is a key consideration in commercial office lighting. LED lights are a popular choice for commercial office lighting because they use less energy than traditional incandescent bulbs and produce little heat. Another important factor in commercial office lighting is the distribution of light. Even lighting is crucial for reducing eye strain and ensuring that workers can see their tasks clearly. Commercial office lighting fixtures are designed to provide even illumination and can be customized to meet the specific needs of any space.
Commercial Office LED Lights That Deliver
Crafted with precision, integrating the latest in LED technology and designed to raise any workspace's ambiance, our commercial office LED lights promise not just to light up spaces, but to transform them. Experience the fusion of quality, variety and innovation at Warehouse-Lighting.com.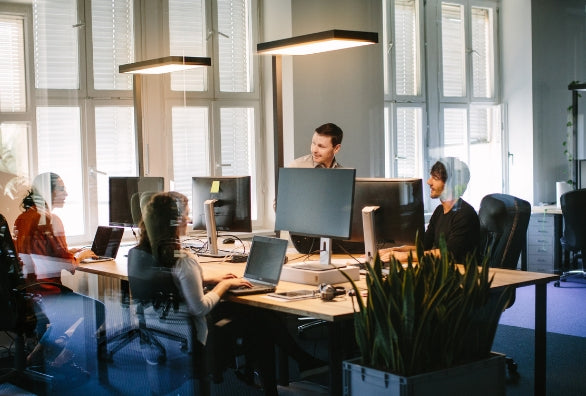 Architectural Commercial Office Lighting
Architectural commercial office lighting represents the perfect marriage between artful design and pragmatic functionality. These lighting solutions aren't just crafted to illuminate a space; they're meticulously designed to be integral components of a building's architectural fabric. 
Whether it's pendant lights or subtly integrated wall sconces that provide light and texture, these lighting elements brighten and sculpt the character of a space. Architectural commercial office lighting enhances the aesthetic appeal of an office, creating workspaces that double as design statements.
Innovative LED Office Lighting
Our LED grid frame light fixture is a contemporary lighting solution crafted to outshine traditional lighting solutions. With its sleek and ultra-thin profile, this modern design offers effortless installation. 
Grid frame LED office lighting is perfect for a range of applications, from new builds to replacing fluorescent troffers or LED panel lights in commercial offices, educational institutions, healthcare centers and retail spaces. Not only does it boast a cutting-edge design, but its performance is equally unparalleled.
Choosing the Best Commercial Office Lighting Fixtures for Your Workspace
Selecting the right commercial office lighting fixtures can profoundly impact productivity, ambiance and the overall aesthetic of your workspace. It's not just about brightness; the ideal lighting setup should complement the design ethos of the office while ensuring practical illumination for diverse tasks. With the many options available, the decision-making process can feel challenging. However, by focusing on specific criteria and understanding the unique needs of your office space, you can curate the perfect lighting ensemble.
Understand Your Space's Specific Needs
Lighting plans for commercial office spaces are essential to ensure proper illumination is provided. Every office has unique functional areas - from conference rooms and workstations to break areas and reception desks. Identifying the specific lighting requirements for each zone ensures optimal illumination tailored to each activity.
Aesthetics & Design Compatibility
Commercial office lighting fixtures play a dual role – they provide necessary illumination and contribute significantly to the office's design aesthetics. It's crucial to choose fixtures that complement and elevate your workspace's overall design theme.
Energy Efficiency & Sustainability
Modern office spaces are increasingly leaning towards eco-friendly lighting solutions. Evaluate fixtures not just based on their light output but also their energy consumption, ensuring you select options that are both effective and environmentally responsible.
Frequently Asked Questions About LED Office Lighting
Following are answers to a few of the questions we've been asked concerning LED office lighting. Please get in touch if you have additional queries about commercial office LED lights or any of our other products.
Why Should I Consider LED Lighting for My Office Space Over Traditional Lighting Options?
Commercial LED office lighting offers numerous advantages over traditional options. It consumes significantly less energy, resulting in lower electricity bills. Additionally, LEDs have a longer lifespan, reducing replacement costs and maintenance. They also provide consistent, flicker-free illumination, enhancing the work environment's comfort and productivity.
Are LED Office Lights Cost-Effective in the Long Run?
Absolutely. While the initial investment for LED lights might be higher than conventional bulbs, they pay off in the long run due to their energy efficiency, reduced maintenance costs and longer lifespan.
Are There Different Color Temperatures Available in LED Office Lighting?
Yes, LED office lighting comes in various color temperatures, from warm (yellowish) to cool (bluish) hues. Depending on the desired ambiance and functionality, businesses can choose a suitable color temperature to meet their office's needs.
How Easy Is it to Retrofit My Office With LED Lighting if I Currently Have Fluorescent Fixtures?
Retrofitting an office from fluorescent to LED is relatively straightforward. Many LED products are designed specifically for retrofit applications, allowing a seamless transition without significant modifications to the existing fixtures. For your convenience, Warehouse-Lighting.com carries a selection of retrofit kits to help you make the switch.
Featured Articles: LED Office Lighting