Industrial Lighting Standards
The Occupational Safety and Health Administration (OSHA) oversees and regulates workplace safety standards, which includes establishing minimum industrial lighting standards for manufacturing settings and more. When deciding on factory lighting for your warehouse or workspace, the first step is to know your requirements.
OSHA Minimum Industrial Lighting Standards
OSHA defers to the lighting recommendations of the American National Standard Institute (ANSI) and Illuminating Engineering Society (IES) for all settings except construction and shipyards. For those environments, OSHA provides the following minimum lighting standards:
30 foot-candles: Offices, first-aid stations and infirmaries
10 foot-candles: General shops and construction plants
5 foot-candles: General construction areas, warehouses, walkways, corridors, exits and other indoor spaces
5 foot-candles: Underground work areas, including shafts and tunnels (unless drilling, mucking or scaling is being performed, which require 10 foot-candles)
3 foot-candles: Waste areas, loading platforms, active storage areas, field maintenance areas, refueling areas, concrete placement and excavation sites
ANSI/IES Lighting Recommendations
The ANSI/IES standard provides general guidelines measured in lux based on the type of work being performed in a particular workstation. These lighting recommendations include:
100-200 lux: Spaces not typically used for visual tasks, such as lobbies
200-500 lux: Spaces used for large-scale visual tasks or those needing high contrast
500-1,000 lux: Spaces used for small-scale visual tasks or those needing medium contrast
1,000-2,000 lux: Spaces used for very small-scale visual tasks or those needing low contrast
The American National Standard Institute also recommends no more than 500 lux for environments primarily used for computer tasks.
While the quantity of factory lights is obviously important, the ANSI/IES also offers guidelines for the quality of light, specifically as it relates to the flicker and glare produced by the lighting source. Because poor light quality can contribute to eye strain, headaches, fatigue and general eye discomfort, efforts should be taken to minimize flicker and glare. These include regularly replacing bulbs and ballasts, upgrading to non-flickering light sources (such as LED factory lighting) and properly positioning light fixtures relative to workspaces.
Ceiling Height
When deciding on your factory lighting, one of the biggest determining factors for what type and how many factory light fixtures you will need is your facility's ceiling height. Most factories have higher ceilings than other locations. When measuring ceiling height, be sure to measure the distance from the ceiling to the floor as well as the ceiling to the work plane. In order to anticipate the lumen expectancy of the building, you will need these measurements ready to go.
Ceiling Height & Fixture Selection
A general rule is that you need one foot-candle per square foot of space, but this depends on other factors as well, such as the amount of accent and natural lighting the area will also receive. To achieve the recommended lumens per square foot, your lighting layout will need to feature the right type of factory light fixtures with ideal spacing between them.
Because the floor and workspace are further away from the light source, taller ceilings require more lumens to light the space adequately. This means installing more powerful fixtures and adjusting how far apart they are to achieve ideal lighting. Factory lights come in many different shapes and sizes, but they can generally be classified into the following categories:
UFO High Bay Lights
Linear High Bay Lights
Vapor Tight High Bay Lights
Low Bay Lights
High bay lights are designed for use on ceilings ranging from 20-45 feet, which are most often seen in industrial and commercial spaces. Low bay lights are intended for use on ceilings 20 feet and lower, as often seen in retail stores and public buildings.
Selecting the Right Factory Light Fixtures
Selecting the right fixtures is one of the most important aspects of any industrial lighting design. Each style is designed to provide the ideal illumination for a particular space. Understanding the purpose for each will help you select a fixture that is best suited for your factory.
UFO High Bay Lights
UFO high bay lights are round, pendant fixtures that are designed to be used on ceilings between 20-45 feet tall. They are so named because of their saucer-like appearance. With only one contact point with the ceiling, UFO high bays are among the easiest factory lights to install. They offer a fairly large beam angle, allowing illumination that is widespread and powerful. They are commonly used in open areas, like factories, warehouses, grocery and wholesale stores, and even aircraft hangars.
Linear High Bay Lights
Linear high bay lights are long, rectangular lights offered in varying lengths and widths to suit your specific needs. Depending on your space, you can mount these factory lights to the ceiling or hang them using cables or chains. They are commonly seen in grocery and wholesale stores, warehouses, factories and other wide-open spaces. A favorite choice in settings with a lot of aisles or shelves because they offer a light beam that will run along the length of the shelf.
Vapor Tight High Bay Lights
As one of the most durable options on the market, vapor tight high bay lights are designed to withstand harsh conditions while still providing excellent illumination. They are sealed to protect their internal components from moisture, dust and other corrosive elements. They are often used in outdoor environments and those subjected to high levels of moisture and other contaminants, like car washes, parking garages, cold storage facilities, industrial kitchens and bakeries, food processing plants and barns. They are commonly available in 2-, 4-, and 8-foot lengths and variable widths offered with increasing levels of protection against dust and water.
Choosing the Right Factory Light Bulb
There are three main options used in industrial applications, including metal halide (MH), fluorescent, and LED factory lighting. Each offers benefits and drawbacks that you will want to carefully consider as you decide which option best suits your factory lighting needs.
Metal Halide Bulbs
Metal halides are a solid, reliable choice for factories. These lights do not require warm-up time, making them a more desirable option over those that do. They offer a high-quality light rendering and are the only option to come close to the lumen output of more modern LED factory lighting. Unfortunately, metal halides are not dimmable, which eliminates them as an option for people who want to be able to have variable light settings in their factories. They also contain mercury, making them less environmentally friendly and more difficult to dispose of than other lighting options.
Fluorescent Bulbs
Fluorescent bulbs continue to be a staple in factory settings. They offer decent performance for a lower upfront price and are especially useful for aisles since they are available in tubes. However, they do not offer the same energy-saving efficiency or lumen output of metal halide or LED factory lighting. While their initial price point is very appealing, fluorescent bulbs and ballasts (and the energy used to operate them) will actually cost more over the life of the fixture than other factory lights.
LEDs
LEDs are easily taking over much of the territory of metal halide and fluorescent bulbs. They offer the same reliability and capabilities, but with better energy efficiency, no mercury and fewer maintenance needs. LED factory lighting is also dimmable and operates at a lower temperature than metal halide. The only drawback to LEDs is their higher initial cost when compared to other lighting options. However, their longer lifespan and lower operating costs make LED factory lighting extremely energy efficient, which makes their lifetime cost much lower than the others.
Designing Your Factory Lighting Layout
The ultimate goal of a factory lighting layout is to generate the recommended lumens per square foot, given the size of your space and how you will be using it. Once you know how many lux or light-candles your factory will need, you can narrow your choices down to those most appropriate for your space.
Your ideal lighting solution will factor in your ceiling height, the anticipated natural and accent light levels, and how you will be using the space to give you a sense of the lumen output your factory lights will need to produce. As the height of the ceiling increases, so too increases the necessary brightness (lumen output) of the light fixtures and the space between them.
| Ceiling Height | Ideal Lumen Output | High Bay Spacing |
| --- | --- | --- |
| 20-30 feet | 22,000-35,000 lumens | 15-25 feet |
| 31-40 feet | 35,000-47,000 lumens | 19-29 feet |
| 40+ feet | 47,000+ lumens | 30-40 feet |
You will also want to consider the ideal color rendering index (CRI) and correlated color temperatures (CCT) for your space. The higher a factory light's CRI, the truer colors will look. If faithful color rendering is an important factor, you will want to consider fixtures and bulbs that promise a higher CRI. Similarly, you will want to consider how warm or cool you want your light to be. Color temperature is measured in Kelvin on a scale of 1,000-10,000, with lower numbers creating "warmer" temperatures and higher numbers generating "cooler" lighting temperatures.
Automated Lighting Control Systems
The best lighting design and layout includes a smart LED lighting control system. Lighting controls give users the ability to manually or automatically turn lights ON and OFF or be adjusted using a dimmer. Lighting sensors provide a level of automation to activate when activity is detected in a certain area. After no activity or motion is detected in the area, the light control system automatically adjusts to a reduced light level.
Lighting controls are available in the form of dimmers, timers, and motion, occupancy, and photosensors. The functionality of light sensor control systems brings maximum energy efficiency to your warehouse or factory.
Benefits of Smart LED Lighting & Light Sensing Controllability
Conserves energy
Low maintenance LED lighting
Multiple application uses
What a light sensor control system does
Programmable sensors to stay on or off depending on room occupancy
Creates custom lighting solutions on walls or in ceilings
Smart automation accessible from your smartphone
Types of LED Lighting Controls and Sensors
The advancements in sensor technologies, and implementing renewable energy plans, has increased the demand for light sensors. LED light bulbs provide the best controllability of lighting products that conserve energy. HID light bulbs can take several minutes to produce light. Many energy companies are offering rebates simply for upgrading to LED lights and installing LED lighting controls. Sensors and lighting controls have many options, including:
Passive Infrared Ceiling Sensors
Ultrasonic Ceiling Sensor
High Bay Sensors
Motion Sensors
Occupancy Sensors
Photo and Daylight Harvesting Sensors
Wall Control Sensors
Wall Switch Sensors
There are no disadvantages when it comes to installing smart LED lighting controls in your factory or warehouse. The increase in control, automation, and multiple application uses with energy efficient LED lights makes it the best choice.
Shop Warehouse Lighting for the Best Selection of Factory Lights
Warehouse Lighting carries only the best factory light fixtures manufactured by the most trusted brands in the industry. We know that warehouse lighting requires a different approach, and we specialize in providing you with the customized lighting you need. With LED factory lighting and more, we will work with you to design a solution specifically tailored to your needs. Our goal is to get you the industrial lighting design you want at the affordability you need.
Shop for Factory Lighting
Industrial Lighting Design: Related Articles
Factory Lighting Tips
Every location has its own unique lighting needs. With factory lighting, this is especially true thanks to the nature of the location.
You May Also Like...
---
Other People Have Considered These Products...
---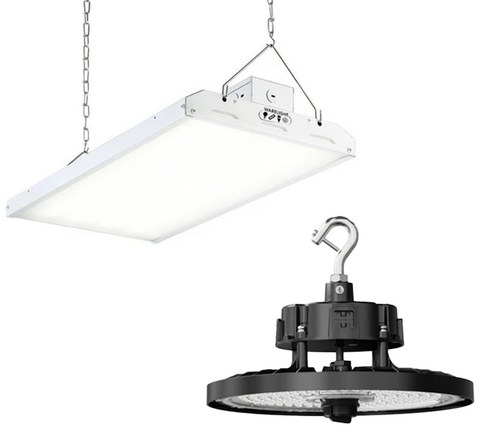 Order high bay LED lights and industrial light fixtures from Warehouse Lighting. LED high bay lights can illuminate your commercial warehouse, shop, or storefront while providing safety, value, and energy efficiency for large spaces. Buy LED high bay lighting at unbeatable prices and start saving today!
View (186) Products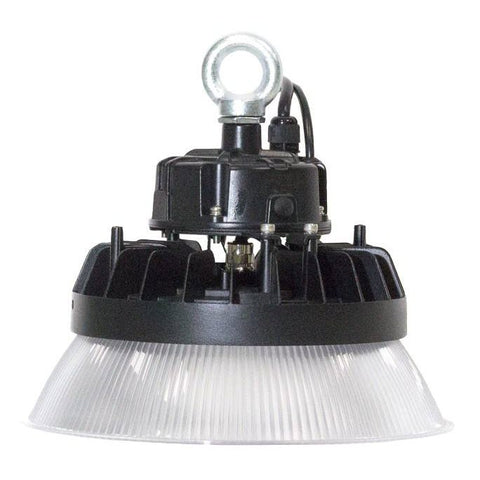 Our LED low bay lighting fixtures are perfect if you have lower ceilings in your facility. The experts at Warehouse Lighting will help you select from a wide variety of different styles of low bay LED lights and ceiling fixtures for your application. We offer the best prices online and carry a large selection of fixtures available for quick shipping. Browse our selection of LED low bay light fixtures online at Warehouse-Lighting.com today!
View (9) Products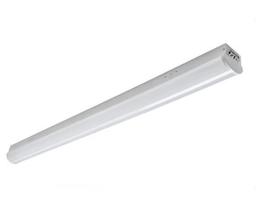 For the best selection of industrial strip lights online, look no further than Warehouse-Lighting.com. From staggered to shop light strips, our products provide powerful lighting solutions for your unique needs. Shop for commercial-grade strip light fixtures today!
View (124) Products
You May Also Be Interested in These Articles...
---
Consider Watching These Videos as Well...
---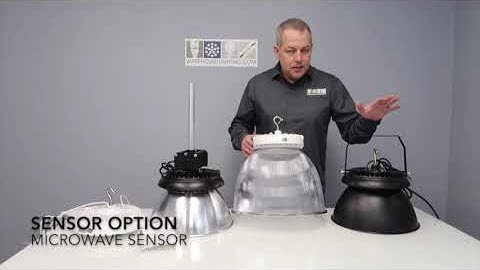 Aries I-UFO High Bay Light
Watch our Aries I-UFO High Bay Light Product Review video. Our videos will educate you so that you can confidently purchase and install LED light fixtures, whether they are for a new installa...
Watch Video
How to Assemble an Industrial T5 and T8 Strip Lighting Fixture
Watch our How to Assemble an Industrial T5 and T8 Strip Lighting Fixture video. Our videos will educate you so that you can confidently purchase and install LED light fixtures, whether they are for...
Watch Video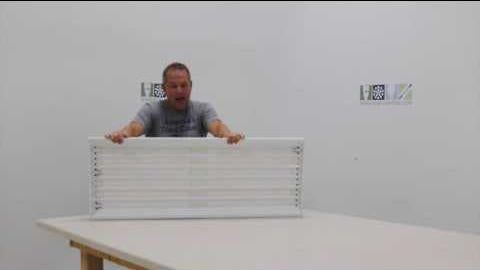 Condor LED High Bay Lighting fixtures 110w, 220w, 320w 
When choosing lighting for your location, there are many factors at play in making the right decision. From considerations such as price and size to other concerns regarding durability and...
Watch Video