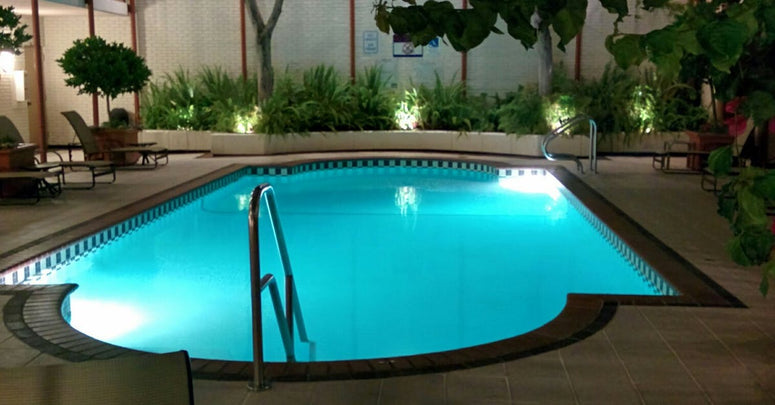 The pool area at a hotel is a great place to escape the hectic pace and relax with the family. While there are several factors at play in designing a successful pool area, one of the more important ones is lighting. Here are 3 tips on creating safe and serene hotel pool lighting for your establishment.
1. Choose the right rating for fixtures.
Lighting around a pool area should be created for the purposes of being durable. With this in mind, opt for fixtures that are well-gasketed with silicone gaskets and rated to be waterproof and dust proof. This will ensure the protection of the internal elements of the lighting solution, as well as help to keep them looking their best. Choosing lighting listed for wet or damp locations is important to the overall life and performance of the fixture. Even with indoor pool areas, lighting durability and water resistance is important. Pool areas are prone to high levels of moisture in the air, as well as splashing from rambunctious younger guests, which can take a toll on lighting fixtures. With properly rated fixtures, there will be less to worry about in terms of the longevity of the fixture.
2. Use softer lighting.
When it comes creating a serene, enjoyable hotel pool area, the lighting is the key component. There are a few ways to ensure a pleasant vibe with lighting. The first thing is to make sure you choose the right color temperature. When choosing between warmer and cooler temperatures, keep in mind the effects of each option. For example, warmer colors create an inviting tone with their gentle, yellowish light whereas cool temps can create modern, attractive appeal. Choosing the right temperature is also dependent upon the lumen output. For instance, a cool temperature can be made less harsh with a lower lumen output and a warmer light can be more vibrant with a higher lumen output. The goal is to find the right balance between the lumen output and the color temperature to get the soft lighting that is right for your hotel.
3. Avoid creating glare on the water.
While you want lighting to provide ample visibility around a pool to avoid accidents, you must be careful in where you position the lighting solutions. When lighting is placed overhead of the pool, the illumination will naturally create a glare that is displeasing to the eye. A better bet is to use lighting in the areas surrounding the pool, but leave the illumination of the water itself to the interior pool light. Many hotels are choosing to place lighting within the floor in the style of recessed cam lights for a look that is modern and helps reduce glare. Another way to avoiding glare is to place lights so that the illumination spread falls on a low-reflective surface such as brick walls or the base of a stone planter. This will ensure minimal light reflectance to help reduce glare.
You May Also Like...
---
Other People Have Considered These Products...
---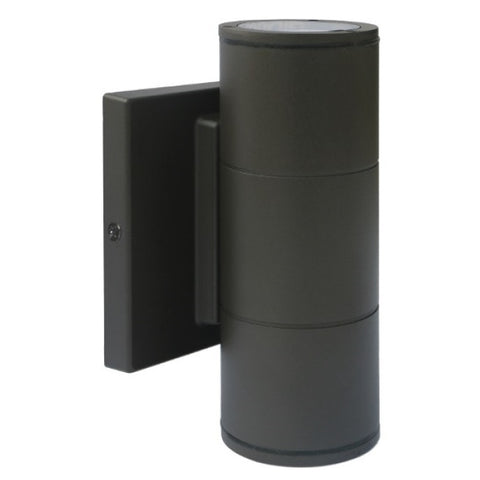 Cost effective, long lasting, and powerful, LED cylinder wall lights provide great lighting at an affordable price. Check out our selection today!
View (29) Products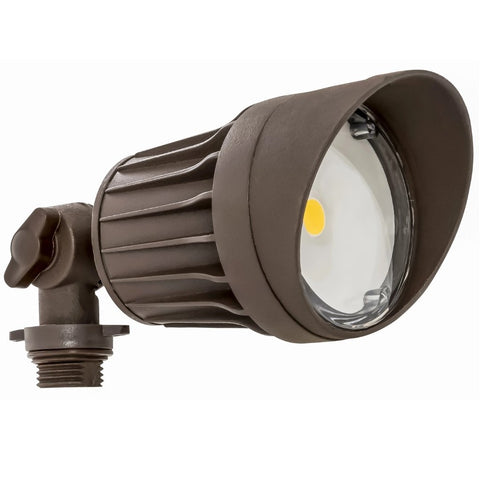 If you are trying to add a new look to your home or business, check out our landscape and exterior accent lighting options for the right match. We have many beautiful options!
View (180) Products
Our bulkhead lights can come in many different body color finishes and color temperatures. Give our sales reps a call today to customize your bulkhead LED wall pack.
View (0) Products
You May Also Be Interested in These Articles...
---